The Background
January is officially "health month" in the UK, with an estimated 1 in 3 of us actively trying to lose weight by setting ourselves health and fitness goals to recover from the excesses of Christmas.
Nestle wanted to tap into this health-conscious period by launching two new variants of their Yes! health bar range.
Nestle wanted to promote their new products to on-the-go audiences, and at the same time ensure the products had good distribution, and retailers had ready access to stock.
The Campaign
Nestle teamed up with Hi! Street to help them to achieve their objectives.
Nestle were prepared to support their campaign by supplying retailers with free sample boxes, and these were sent to retailers 3 weeks in advance of the advertising campaign starting on screen. Hi! Street contacted each retailer individually to explain that they were going to receive the sample boxes and to ask them to devote the necessary counter space to display them properly.
Retailers displayed the YES! health bars as soon as they received them, and continued to display them during the 3 week advertising campaign on the Hi! Street digital screens. The campaign ran smoothly with retailers restocking "YES!" health bars through their usual wholesaler channel as their sample boxes emptied.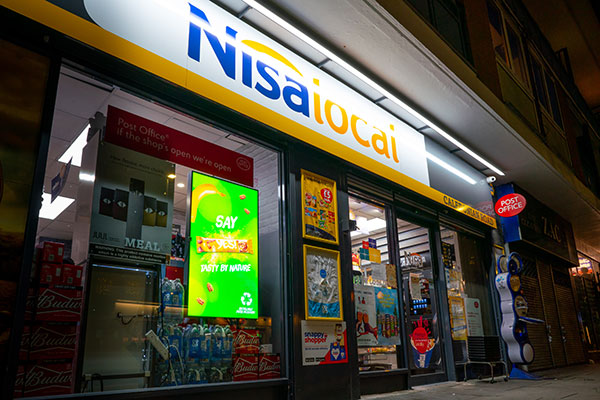 January 2020, Hootch Supermarket, Dalston, London
The creative was bright and bold and they used our animated capabilities to ensure they caught the eye of all those passing by the screens.
The Results
Hi! Street collected EPOS sales data from all of the stores that participated in the campaign. Analysis of the data showed the new variant products achieved a respectable level of sales during the first 3 weeks they were on display. However, after 3 weeks, when the on-screen advertising campaign commenced, sales immediately rocketed by over 65% and maintained at this elevated level throughout the 3 weeks of the on-screen advertising campaign.
Nestle were delighted with the sales increase, recognising the gains which can be accrued by using Hi! Street screens to provide customers with the vital first step in their path-to-purchase.
Request Full Details