The Background
For hundreds of years, Pancake Day (Shrove Tuesday) has been a popular day on the UK calendar. Despite its popularity, the moveable date means that most people are confused as to what day it falls on each year. This usually leads to a mad dash to pick-up ingredients at the last minute, or in some cases missing it altogether.
For Pancake Day 2019, Ferrero wanted to help the public by spreading awareness of the 5th March date, as well as driving in-store sales of their popular pancake filler Nutella.
The Campaign
Ferrero teamed up with Hi! Street Digital, using our dynamic screens in convenience store windows across the UK, to display a daily countdown to Pancake Day. In the 7 days leading up the date, messaging ran on screens informing people that they had "X days until Pancake Day," until they finally announced "Today is Pancake Day!"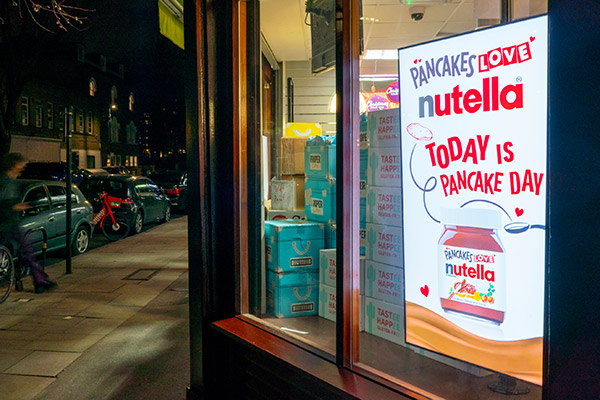 February 2019, Budgens, Campdale Road, London
Convenience stores were the perfect place for them to display their message. Shoppers visit their local store frequently (3.7x) throughout the week, and the countdown helped to create an impactful reminder that they needed to buy their pancake ingredients. For those that did leave it until the day, convenience stores allowed them to purchase the essential ingredients quickly, easily and locally, to ensure they didn't miss out.
The Results
Historically, in the eight days leading up to and including Pancake Day Nutella sales would increase nationally by just over a quarter, compared to an average sales week. In 2019, sales went up by over 82% in Hi! Street Digital stores during the lead up to Pancake Day. On the day itself, sales were up + 65% compared to Pancake Day the previous year, proving that the advertising had done its job.
The effective use of the countdown messaging created awareness of a key sales date, and subsequently drove demand for the product. Due to the success of the campaign it was a finalist The Drum Out of Home awards 2019.
Request Full Details